VILLAGE HALL NEWS AND EVENTS

If you would like us to include notices or events in the Hall please email the booking officer and we would be happy to post them. Photos always welcome!



Village Hall Committee:

The Annual Meeting of the Village Hall was held this month and the Treasurer presented the accounts indicating a healthy balance and a continued growth in Lettings. Our secretary, Catherine Bower, produced a yearly report as shown below:



West Malvern Village Hall

Annual Committee Report 2017

Despite its age and lack of parking facilities the Hall continues to be a useful and much loved part of West Malvern life, both for those who live here and those who visit to take part in the various groups who enjoy the space it provides. Among its users we can see a range of activities, from painting to Pilates, circle dance to craft fairs,, singing, toddler group and garden club. The monthly coffee mornings continue, to be fairly well attended, and the 100 club is thriving under the stewardship of Jenny Burford. Recently the village staged a very successful 'Night of Varieties' starring local residents - what a talented lot they are!

The committee lost a member this year when John Mast retired, thank you for your years of input John, we hope you enjoy your next project! When John left we needed a new Hall website, so his brains were well and truly picked by Jen Close, our Bookings Officer, as she constructed 'westmalvernvillagehall.org' site to use for bookings and Hall information. Three cheers Jen!!! Our handyman David Semple continues to keep the Hall tidy for us, occasionally (once this year) the committee get together to deep clean all the nooks and crannies, and our Treasurer, Rob Crawford does double duty as the 'go to' to arrange anything that needs professional input like electrics.

There are still ways in which we are looking to improve the Hall. New, small tables for events serving refreshments, portable 'blow' heaters to back up the heating and improved signage are some of the items under consideration. As a committee we do need more members to help us keep the Hall fit for community use. We only meet every other month for about an hour (ish), so if you love your Hall, do join us!

Lastly thanks to all those involved in the work that keeps the Hall for the use of the local community.






Village Hall Review:


Many congratulations to David Matthews and his team for an excellent evenings entertainment on Friday 17th March. Playing to a packed hall the evening was great fun and raised much needed funds for local organisations. Thank you to all those talented people who gave of their time to entertain us. Our picture above shows a previous panto that delighted the village!



Toddler Group:
Friday mornings, during school term times, a very friendly group of mums, dads, carers, babies and toddlers meet in the Hall from 10 a.m. to 12 noon. Come along for a warm, friendly welcome and a little 'time out'!

Art Class:
Geoff Rowsells very successful Art Class on a Wednesday morning is soon to end BUT do not despair a new course is planned for October - keep an eye out for more news HERE!

Singing and Dancing:
Vital Spark - our local West Gallery Quire continues to rehearse in the Hall and gives us a wonderful concert at Christmas. To find out more about the group please follow the link here: http://www.vitalspark.org.uk

Circle Dancing, Joyful Harmony and Joyful Voices:
Join Sunnara Vivian for a delightful day, or evening of gentle dance and harmony song - no experience necessary!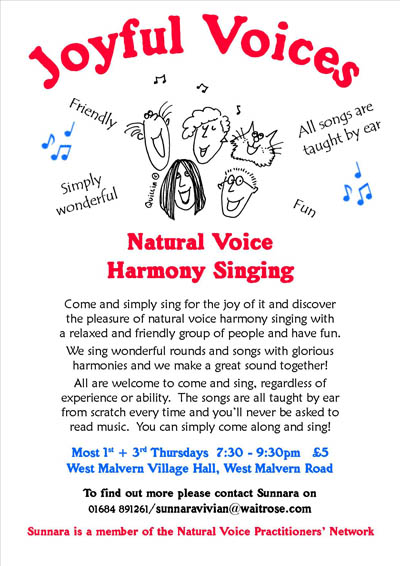 Malvern Meditation:
A group meets in the Hall Thursday evenings - for more information contact: malvernmeditation@gmail.com

Rehearsal or Performance Space:
The Hall is used for band rehearsals and performances. Please contact the Booking Officer for more details.

WOULD YOU LIKE SOMETHING A LITTLE MORE STRENUOUS!

Pilates and Fitness Classes:
Pilates for Men on Monday evenings and Fitness Classes for Men and Women on a Tuesday morning - for more information contact enewman100@gmail.com